ATHENS' FAVORITE
TATTOO STUDIO.
Founded as a private studio in 2016 by owner Kim Deakins; Pink Goblin is a female owned and operated tattoo studio located in the Chase Street warehouse artist community and is a safe space for all genders, religions, races, and orientations. 
GOOD VIBES. GREAT TATTOOS.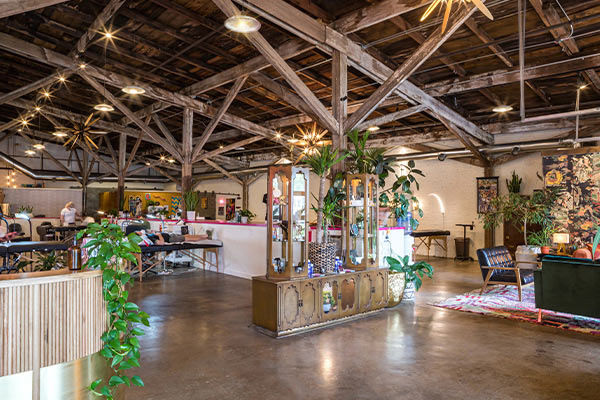 As a female artist who had been in the industry for 7 years; Kim was aware that many tattooers and shops were not inclusive or safe spaces for a large sector of clients and even artists. Her goal was to change that with a different kind of studio and be a part of ushering in a new generation and culture within the industry. 
With the name evolving from Kim's love of the science fiction/fantasy world- Pink Goblin fit the bill because she wanted a name that reflected what the space would be about: a chill, silly, fantastic, pro-female, and all-inclusive shop. A place where the goal is for people to be welcomed and appreciated when they come in, get the best quality tattooing we can provide, and feel safe and respected as fellow human beings.
🚨BIG NEWS!🚨 The studio owner & our fearless leader Kim Deakins has been included in this amazing piece about gutsy women. So be sure to partake in this unforgettable journey with Hillary and Chelsea Clinton as they chat with some of the world's boldest and bravest women. Gutsy premieres September 9 on AppleTV+

Lauren Primrose
1/20/2023 - Google
Loved my experience both times! I got my septum piercing done by Jay, it's so perfect! Answered all of my 1,000 questions lol and was super sweet! I also, got a tattoo by Peggy, She was super personable in helping me with my tattoo design And everything about it is so perfect! And the line work is very impressive! Both artist are super talented and passionate and you can tell! Also, studio is so beautiful and inviting! Definitely felt super comfortable the entire time!


Susan Altman
9/15/2022 - Google
I had such a fantastic experience at Pink Goblin. I am so delighted with my turtle tattoo! ♥️ Kim is a talented and compassionate artist. She answered any questions I had thoughtfully, and gave me so many suggestions of things to do in Athens, as I had visited from out-of-state. The seven hour session flew by!


Aiden Dake
8/25/2022 - Google
My first tattoo experience was at Pink Goblin Tattoo. After searching for several weeks they were the first ones to get back to me. I loved the communication, how they are all inclusive, and how they still take Covid very seriously as my wife has health conditions. Also the fact that they take a deposit to schedule an appointment gives a sense of relief knowing that they won't cancel unless it's an emergency. Being my first tattoo I was pretty nervous but as soon as you walk in it almost dissipates. The place is so calm and inviting. The people that work there are extremely nice and inviting. The building and workstations are extremely clean. They have live plants everywhere with a really nice waiting area that is welcoming and comfortable with water available and comfortable couches to sit and wait on the artist. My tattoo was done by Parker and I definitely recommend them. They did an amazing job on my piece, in my case no changes needed to be made to the artwork they sketched up. I may know nothing about other experiences or artists as this was my first, but they also had a light hand in my opinion. I am already, a day later, reaching out to Parker to schedule my next piece. I cannot say enough good things about this place, their people, and the environment they've created.

160 Tracy St. STE 10
Athens, GA 30601
S:   – CLOSED –
M:  – CLOSED –
T:  12pm – 7pm
W: 12pm – 7pm
T:  12pm – 7pm
F:  12pm – 7pm
S:  12pm – 7pm